I stumbled across this useful infographic which is full of very valuable quotes that will benefit anyone trying to market their business, or themselves. Read my take on the quotes below and possible ways copywriting can be used to help with your marketing.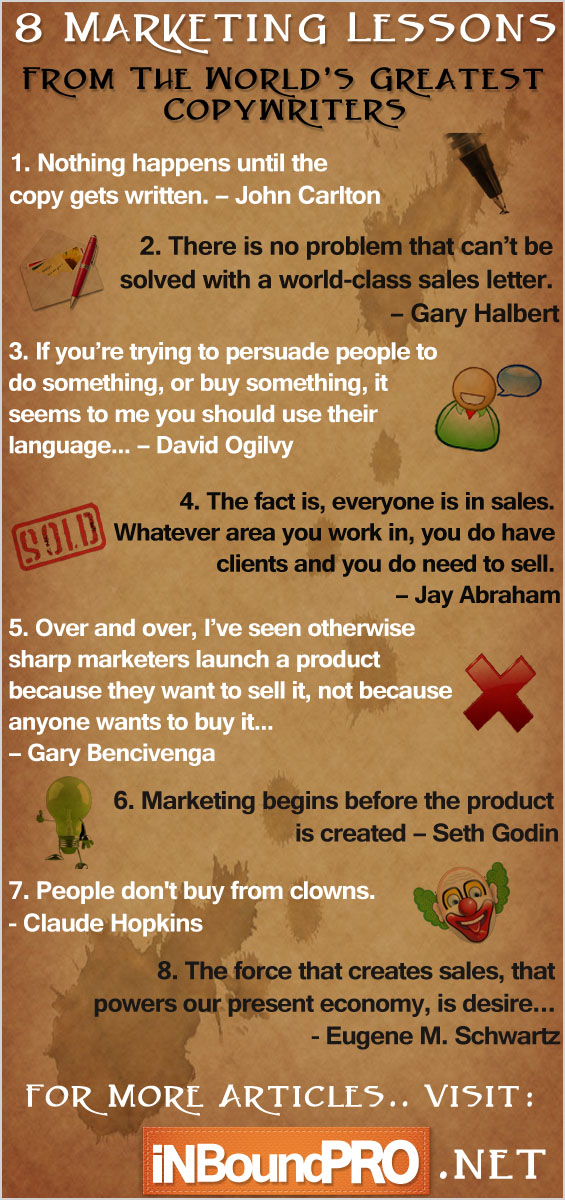 Like thisinfographic? Get more sales and marketing tips from Inbound Pro[dot] net.
Lesson Number One – John Carlton
You need a voice and you need a call to action, and this isn't possible until you put pen to paper (or fingers to to keyboard) and start informing people of what you have for them. A great way to do this is by describing the problem you are able to solve, let them know why they need it and showing them how you are able to make the problem disappear with your must have cure.
Use: Web copy, press releases, blog posts, email marketing, articles.
Lesson Number Two – Gary Halbert
Sales letters target people who are actively hunting solutions to their particular problem. By hiring a copywriter to produce a masterpiece of a sales letter you can inform your market that you are the solution, you can solve problems and you are able to sort out their needs once and for all.
Use: Email marketing, direct sales letters, brochures, media packs.
Lesson Number Three – David Ogilvy
This is one of my favourites, and part of the job I love. Finding the voice, empathising with the market and speaking in their own words is a powerful way to build connections. Showing you understand your market helps to build trust, they know where you are coming from and vice versa. A great copywriter will always ensure they use the right voice for the people you are targeting.
Use: Web copy, guest blog posts, articles, features, ebooks.
Lesson Number Four – Jay Abraham
Sales are vital for all businesses, and it's something you will need to gain confidence in if it's not your forte. Sales comes in all sorts of shapes and sizes, from the dreaded and unwelcomed cold calling to direct mail, on and offline advertising and marketing and social media. You can use your website and blog to convince your audience they need to invest in your products or services.
Use: Blog posts, web copy, articles, press releases, brochures.
Lesson Number Five – Gary Bencivenga
You must have passion in your products and services, but you need to be sure there is a market out there who need/want it too. Market research is vital and it's always a good idea to test the waters first before diving head first into your new venture. You can do this by trialing a small sample of your product, test running your services before you give up the day job. Social media is an excellent research tool if you have a small budget, don't be afraid to use it for that purpose.
Use: Social media, blog posts, email marketing.
Lesson Number Six – Seth Godin
This is another message strongly advising market research. You can use a blog and combine it with social media to see if there is a lot of interest surrounding your idea before throwing all your eggs in one basket.
Use: Social media, blog posts, email marketing.
Lesson Number Seven – Claude Hopkins
Well, if you are selling balloons at a circus I think clowns will probably do quite well, but I very much doubt that's what you have in mind. What I believe Claude is trying to point out is that humour needs to be used very carefully. You can have a laugh in your marketing, but not everyone will share your sense of humour. When it comes to sales it's often better to stay professional and make sure your potential clients know they are buying from someone who will not let them down.
Use: Social media, blog posts, articles, web copy, email marketing, press releases.
Lesson Number Eight – Eugene M. Schwartz
Having the ability to create and build upon desire is one of the most powerful ways to encourage your audience to buy from you. Using words and graphics correctly can generate want in any audience. You just need the power, creativity and the knowledge in order to satisfy the desires of your market.
Use: Web copy, design, social media, blog posts, guest blogs, articles, features, email marketing, ebooks.